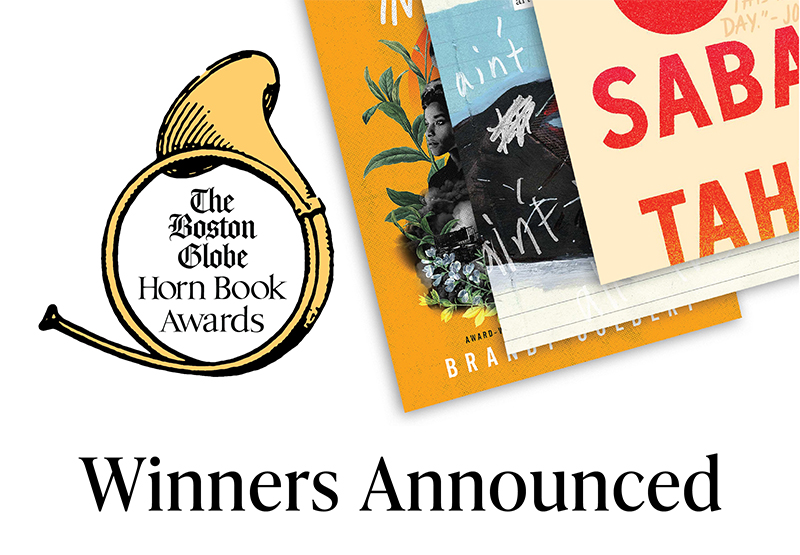 Jason Reynolds' 'Ain't Burned All the Bright', Sabaa Tahir's 'All My Rage' win 2022 Boston Globe–Horn Book Awards
On the 150th anniversary of the awards, one winner and two books of honor have been selected in each of three categories, picture books, fiction and poetry, and non-fiction, the Horn Book announced today.
The Book of the Horn announced the winners of the 2022 Boston Globe–Horn Book Awards.
On the occasion of the 150th anniversary of the awards, one winner and two books of honor were selected in each of the three categories.
The 2022 winners of the Boston Globe – Horn Book Awards 2022 are:
PICTURE BOOK AWARD WINNER:
Ain't burnt all the shine written by Jason Reynolds; illustrated by Jason Griffin (Caitlyn Dlouhy Books/Atheneum Books for Young Readers/Simon & Schuster Children's Publishing)
FICTION AND POETRY AWARD WINNER:
All my rage by Sabaa Tahir (Razorbill/Penguin Random House)
NON-FICTION AWARD WINNER:
Black Birds in the Sky: The History and Legacy of the 1921 Tulsa Race Massacre by Brandy Colbert (Balzer + Bray/HarperCollins Publishers)
PICTURE BOOK HONOR BOOKS:
Lunar Pops by Heena Baek; translated by Jieun Kiaer (Owlkids Books)
War by Jose Jorge Letria; illustrated by André Letria; translated by Elisa Amado (Aldana Libros/Greystone Kids)
HONOR BOOKS FICTION AND POETRY:
Dogs Ground by Joseph Bruchac (Books with dials for young readers/Penguin Random House)
Borders by Thomas King; illustrated by Natasha Donovan (Little, Brown Books for Young Readers)
NON-FICTION HONOR BOOKS:
The waiting place: when the house is lost and a new one is not yet found by Dina Nayeri; photographs by Anna Bosch Miralpeix (Candlewick Press)
Your Legacy: A Bold Reclamation of Our History of Slavery by Schele Williams; illustrated by Tonya Engel (Abrams Books for Young Readers)
First presented in 1967, the Boston Globe–Horn Book Awards celebrate excellence in children's and young adult literature.
The judges for the 2022 Boston Globe–Horn Book Awards are: President Vicky Smith, Director of Access Services, Portland (ME) Public Library; Sujin BE Huggins, PhD, Associate Professor, School of Information Studies, Dominican University, River Forest, Illinois; and Maura O'Toole, school librarian, Boston, MA.
"This year marks the 150th anniversary of The Boston Globe, and we are once again proud to partner with the Horn Book in bestowing this prestigious honor and celebrating authors and illustrators of children's and young adult literature," said Linda Henry, CEO of Boston Globe Media. "Each of the honorees and laureates inspires the imagination of countless young readers. We are grateful to each of them for the contributions they have made to the literary community."
"Young people today are living history," said Elissa Gershowitz, acting editor, The Horn Book. "This selection of winners and honorees so well captures this shared moment and the extraordinary issues facing young people. In a time of increasing book bans and challenges, it's essential that readers have access to thought-provoking, mind-expanding and world-challenging titles like these. »
Get the print. Go digital. Get both!